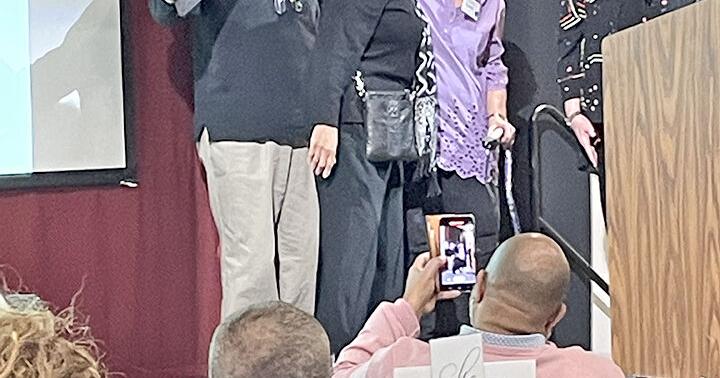 25th edition of the Charlotte S. Huck Festival inspires many | Education
The 25th annual Charlotte S. Huck Children's Literature Festival was about to begin and the conference room was buzzing with the activity of 180 teachers, librarians, educators and other children's literature enthusiasts.
"It was through reading that I learned perspective and appreciation for different points of view in this world," said Mario Martinez, dean of the School of Education at the University of Redlands, in his keynote address. opening. "It is through reading that we develop and grow."
Don Tate, author and illustrator, described in his keynote how he only became an avid reader when he was 21 years old. That's when he found a book with his culture and background. That book was "Black Boy" by Richard Wright.
"I was starved for books as a kid," said author and illustrator James Ransome in his presentation. He grew up in a house without books. When he was a teenager he moved to New Jersey, "The first thing I did was get a library card."
Author and illustrator Salina Yoon came to the United States at the age of 4 from Korea and did not speak the language.
"I couldn't read the words, but of course I could read the pictures," she said.
Growing up, she was shy and quiet.
"'Penguin and Pinecone' propelled me out into the world, it helped me come out of my shell."
The next day, Raphaël Lopez's story was a little different from the others.
"We had books from floor to ceiling. I grew up surrounded by books," he said.
He grew up in Mexico City with architect parents.
Each background started and ended with books and how they changed lives. Likewise, the sessions covered everything from comedy to literacy to the life of Ashley Bryan.
The prestigious Charlotte S. Huck Prize was awarded to the couple Claudette and Michael McLinn. McLinn is the executive director of the Center for the Study of Multicultural Children's Literature. She served as Chair of the Caldecott Committee in 2022.
"We appreciate their support of this conference for many, many years," said Charlotte Burgess, niece and namesake of Charlotte S. Huck.
At the conference, messages centered on the importance of diversity in literature, to show all children that they matter.
"Seeing artwork about your people has inspired many African American children to become artists," said James Ransome.
His art has been featured in over 70 books spanning a 32 year career.
Another important message was the level of support authors and illustrators received growing up. One positive encouragement from a teacher or librarian was enough.
"Teachers and librarians are the most supportive people," said Salina Yoon.
"I was overwhelmed," said Pamela Martinez, youth services librarian at the AK Smiley Public Library. "All the presenters, main sessions, small sessions were very personable. I felt like I was inside their story.
She has been coming to the festival for 20 years.
"It's like Christmas," said Jamilah Muhammad, librarian at Bear Valley Elementary. She mentioned the great level of excitement that reigned at the conference.
Grade 6 teacher Toi Bolden from Ontario agreed, "I just think it was fabulous. It inspires me as a teacher. And it is important to re-inspire yourself as a teacher to go back and inspire children.
Many participants had been coming for years.
"When I heard Don [Tate] speak yesterday, I think it's the best start we've ever had," said founding coordinator Marjorie Arnett. "Then Ralph [Fletcher] was talking and it was like that with each of the speakers.
She said they've worked to create diversity in the program every year, "This year it just worked out."
"[The festival] continues to be what my aunt wanted – a small event with opportunities to meet authors and illustrators," Burgess said, "We think it's just the most wonderful combination of people. She added, "We can't wait to see you next year. Bring a friend!"