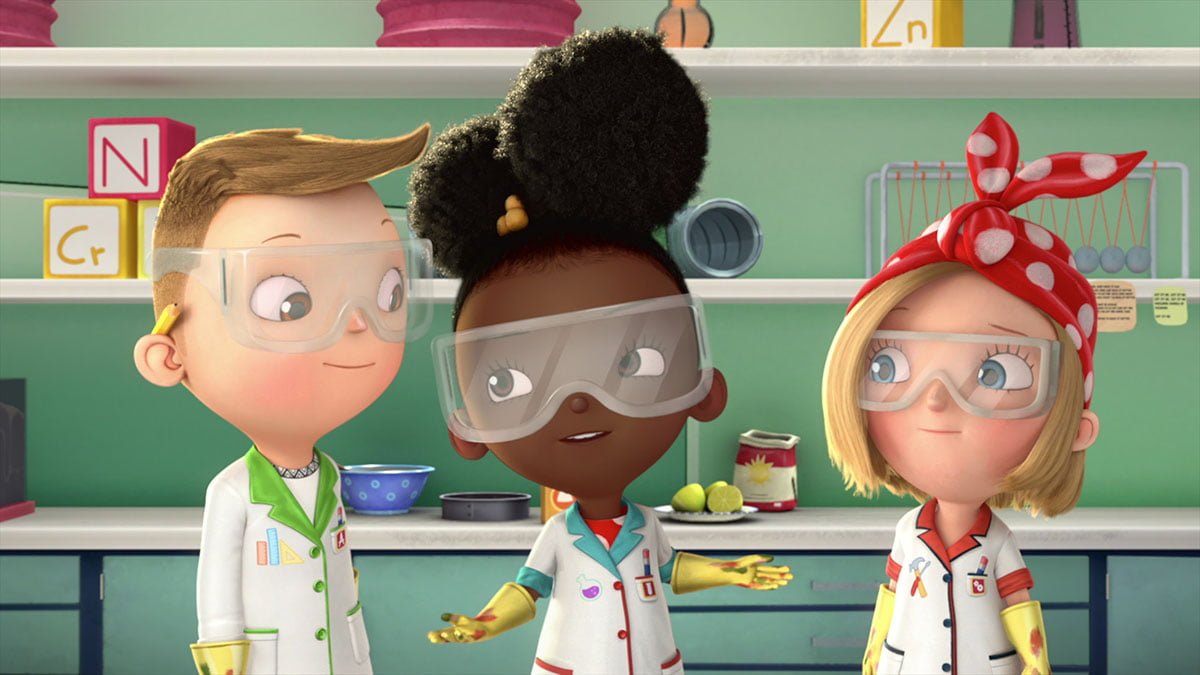 Ada Twist, Scientist Encourages Kids To Enjoy Science With Netflix TV
Netflix released Ada Twist, Scientist with the goal of making science fun and accessible to everyone.
The animated show follows 8-year-old Ada, a little scientist with a great sense of curiosity. She explores science to uncover the truth about everything from chain reactions to evaporation. The series encourages children to be curious about their surroundings and to take an active interest in why things happen and how they work.
It is based on the bestselling picture book series of the same name by author Andrea Beaty and illustrator David Roberts. The TV show is aimed at preschoolers.
Chris Nee, Executive Producer, says: "I am delighted to partner with Higher Ground to bring Ada Twist to the screen. As a fan of the books, I was won over by the diversity of the characters, the striking designs and the vital message that science matters. Additionally, Ada fulfills my personal need to populate children's TV with strong girls who aren't afraid to be the smartest kids in the room. Once Kerri Grant joined the showrun, I knew we had the dream team to bring this special series to life.
Kerri Grant, Showrunner and Co-Executive Producers says: "It gives me immense joy to be a part of presenting Ada Twist on screen. As a curious young black girl who grew up loving television, I just got used to rarely seeing images that reflected me on screen – and those that did represented an anti-intellectual stereotype that led me to hide. my own light under a bushel. Be part of a children's show featuring a young black girl shamelessly being the smartest child in the room, in a world as diverse and visually stunning as that created by the show's author and illustrator of books, fills my heart to capacity. Working with Chris Nee, my former boss and certified preschool television hit maker; and Higher Ground and their commitment to performance, the big dream and excellence, has been the alignment of so many stars, it truly is a heavenly event.
Melissa Cobb, Vice President of Original Animation, Netflix, says, "Chris, Kerri and their talented team are creating a series that goes far beyond children's entertainment; they bring to life stories that reflect the world we live in and inspire us to consider solutions to the challenges we face. Ada is bright and funny and we hope she will spark the curiosity of children all over the world.
Each episode features real scientists, like aerospace engineer Keji Sojobi, explaining in easy-to-understand terms how the basics of science work.
Keji says, "A vivid memory I have from when I was little is watching space shuttle launches on television regularly and being in awe of them," she says. "I loved math and was curious about the world around me. I loved discovering space and the things that fly. And I had my parents and good teachers who helped fuel my curiosity about these things.
Tips for encouraging an interest in science
Here are Sojobi's tips for making science fun and accessible, and what parents can do to better encourage their kids to take an interest in it:
Relate science to everyday situations and observations: "I love looking at the moon, and when we have a particularly dramatic moonrise, I tend to report it to anyone in my neighborhood," says Sojobi. "This, more often than not, leads to a quick conversation about why the moon appears so big, or so yellow, or so red during this moonrise."
"Asking people about why the world around us is a certain way usually tends to lead to fun science-based discussions, in my experience," she adds.
Start ASAP: "I often think back to how my parents wanted me to count and do simple arithmetic with sugar packets on restaurant tables when I was a toddler, and how I was raised unknowingly not to be intimidated by math because of things like that, "says Sojobi. "Mathematics and science are intrinsically linked, and I think an interest in science can be instilled in the same way at a young age. "
Be active and involved: "Encourage your child's questions about why things work the way they do," says Sojobi. "Show them interesting everyday things, like how eggs change consistency when you cook them a certain way. Show how different the exterior smells after it rains. Observe things with them and don't be afraid of their follow-up questions! "
Ada Twist, scientist joins a growing catalog of programs for children and families streaming on Netflix. Once you have completed the Science Series, be sure to check out Ridley jones, A Storybots Space Adventure, and Gaby's dollhouse.
About Ada Twist, scientist
Ada Twist, Scientist follows the adventures of eight-year-old Ada Twist, a pint-sized scientist with giant curiosity, who longs to uncover the truth about absolutely everything. With the help of her two best friends, Rosie Revere and Iggy Peck, Ada unravel and solve mysteries for her friends and family. But solving the mystery is just the beginning because science isn't just about learning how, why, and what… it's about putting that knowledge into action to make the world a better place.
Developed for Television By / Executive Producer: Chris Nee (Doc McStuffins, Vampirina)
Showrunner / Co-Executive Producer / Editor-in-Chief: Peabody and Humanitas winner Kerri Grant, Emmy nominee (Doc McStuffins, Nella the Princess Knight)
Executive Producers: Mark Burton (Water, Tallula, the Indian detective), Tonia Davis and Priya Swaminathan (American factory,Camp Crip, Becoming), author Andrea Beaty and illustrator David Roberts