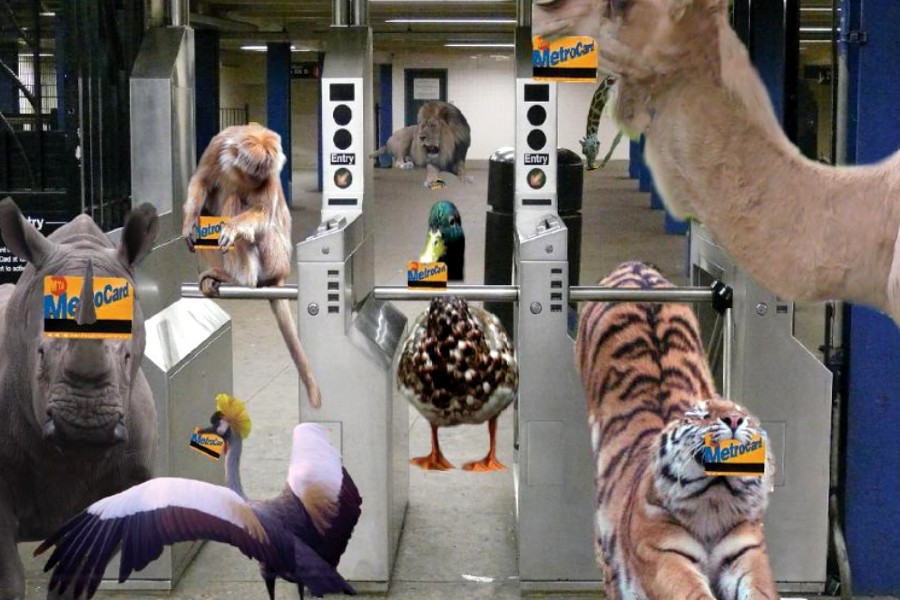 "BYOJ" Bring your own joy! Series of events by artist Nikki Williams in Harlem
"I wouldn't have seen it if I hadn't believed it!" a "BYOJ" – Bring Your Own Joy! solo art performance by artist Nikki Williams in HarlemNY.
Is presented by Spirit in Sunset Productions in association with Ryan Health Frederick Douglass.
Solo art exhibition celebrating the joy of imagination, creativity and dream vision by Harlem Artist and writer Nikki Williams. The exhibit will be on view from October 4, 2022 to November 28, 2022, in the four windows of Ryan Health Frederick Douglass located at 2381 Frederick Douglass Blvd and 128 the Street in Harlem.
An artist talk will take place on Monday, October 24, 2022, from 3:00 p.m. to 5:00 p.m. The Artist Talk will be a "wonderful walk observing the daily creativity of Harlem and its citizens" starting at Ryan Health Frederick Douglass and ending at Ryan Health Adair located at 565 Manhattan Avenue at 124th Street in Harlem. Along with the artist, Nikki Williams, Mr. Charles Shorter, Executive Director of Ryan Health Adair, and Ryan Health Frederick Douglass will be on hand to help guide the walk and talk about Ryan Health, the arts and the Harlem community that Ryan
Health serves. Mr. Aboubakar Diaby, Special Projects Coordinator and Curator of the exhibition and Mr. Charles Ruiz, Administrative Coordinator, Assistant Curator will also be present to discuss the process of curating the exhibition.
Guests are Ms. Laurie Cumbo, Commissioner of the Department of Cultural Affairs, Ms. Nina Norwood, Deputy Director of Congressman Adriano Espaillat's NY-13 Office, and Mr. Manny Belliard,
Deputy Director of Constituent Affairs, Office of Manhattan Borough President Mark Levine, Upper Manhattan Office. Ryan Health Frederick Douglas and Ryan Health Adair staff and healthcare providers when the Artist The presentation ends with the importance of creativity and imagination in relation to health and well-being.
For more information, contact Spirit in Sunset Productions at (212) 368-3571, [email protected] or Mr. Aboubakar Diaby, Special Events Coordinator at Ryan Health Frederick Douglass at (212) 222.5221 ext. 7826 or www.ryanhealth.org.
"I wouldn't have seen it, if I hadn't believed it!" is the work of creator and producer, Nikki Williams, Artistic Director of Spirit in Sunset Productions, and the creative force behind "B, YOJ" – Bring Your Own Joy! a campaign she spearheaded in 2021. The theme of the art exhibit centers around daring to see what you happily believe. This he also pays homage to the Magical Energy of Dreams and the Creativity of Children, in particular, Children of Color whose genius is not always reflected in the resources provided to them. "Children have a way," Williams attests, "of reminding us of the importance of acknowledging and celebrating our innate blessing of joy — our seventh sense."
Williams describes the footage in "I wouldn't have seen it if I hadn't believed it!" as a series of Art in Photo/Collage images that challenge you, as children are so adept at, "See what you believe", rather than relying on believing what you see. Williams argues that "creativity is a celestial space within our inner being". williams
interprets the biblical passage found in Matthew 18: "Truly I say unto you, unless ye change and become like little children, ye shall never enter the kingdom of heaven," to mean that Artists go beyond what their five senses perceive.
Artists must first believe that a thing exists before they can see/create it and bring it to life. It takes faith, that of children, to know that everything is possible for those who believe. Children are fearless in their imagination – in how they imagine Nations. Williams taps into that same innate power of childlike wonder and imagination to create artwork that brings Visioned Dreams into the physical realm, challenging the viewer to look twice at artwork that, like the song "Pure Imagination," written by Gene Wilder, tells the viewer, "What you find will defy explanation.
---
"I wouldn't have seen it, if I hadn't believed it!" also pays special tribute to those Artists working in the arts and education – the often unspoken heroes who shape how children see the possibilities and beauty of the world. Williams knows firsthand the value of Arts when it comes to educating children. She understands that most children respond and learn when lessons are presented through the prism of creativity. Williams has worked as an independent contractor for over twenty=five years with several arts organizations as an artist
Education specialist. Williams speaks of her colleagues when she says, "The work of professional artists who bring their gifts and expertise to classrooms, libraries, cultural centers, hospitals, community centers, etc., is often not not rewarded. Artists have a unique and enduring way of educating children and adults. Their impact, especially on children, is lasting. These artists open worlds to children through books, music, poetry, dance and especially the visual arts. Williams included a tribute to the artists who bring the Arts to children and adults in the inaugural exhibition at Blick Arts Material over the summer. Arts in Education Multidisciplinary artist Khuumba Ama and dancer, choreographer and poet Myna Majors were guest speakers at Artist Talk last August.
"I wouldn't have seen it, if I hadn't believed it!" launched what will be a traveling exhibition at Blick Art Materials located at 261 West 125 the Street, next to the famous Apollo Theater in Harlem. The exhibition is part of the "BYOJ"
TM – Bring Your Own Joy series of events that began as a creative writing workshop hosted by Williams' third solo exhibition in spring 2022. The exhibition opened July 13, 2022 and was extended through September 7 2022, Williams is honored and delighted to have three solo exhibitions curated by Blick Art Materials at Harlem. His first exhibition celebrated the 50 year of the African American Day Parade in Harlem with selected photographs that Williams took of the parade over a period of twenty-five years. The second exhibition was part of the 12 Art Beats series by Blick Art Materials. A series where twelve artists have been selected to exhibit their works each month of the year. Williams' artwork celebrated the achievements of women artists of color during the month of August. "Blick Arts The hardware," says Williams, is "my creative home. I feel a sense of family every time I walk into the store. One is transformed by the power of creativity as soon as one opens the glass doors and the feeling of what can take hold of one's Spirit. Williams admits that after decades of shopping at Pearl Paint, an art supply store officially located on Canal Street, which closed in 2014, she would never again feel a personal connection to the staff of an art store. 'art.
Williams also feels extraordinarily blessed to have her works on display for the second time in Ryan Health Frederick Douglass' windows. She is grateful that Executive Director Mr. Charles Shorter saw value in her idea of ​​celebrating the endless dreams and creativity inherent in communities of color. Last year, Ryan Health and the CEO of Ryan Health Harlem venues, Charles Shorter, spoke of viewing last year's exhibit, "As a means of providing the community with an opportunity to celebrate, observe and witness an example of black excellence displayed through powerful imagery and poetry." Williams prays that the exhibit and the poetry that accompanies the artwork will inspire those who live in the neighborhood, as well as the patients Ryan Health serves, and any children who view the exhibit to tap into the endless well. end of their own imagination. Williams is a multi-talented artist who has always added literature and theater to her visual art.
Nikki Williams, nicknamed "Renaissance Woman", is an award-winning photographer and poet.
She is also an accomplished painter, playwright and performance artist who has been producing cultural arts programs for over thirty years. "BYOJ" – Bring Your Own Joy! was inspired by a poem Williams wrote last year when she produced a "Herstoric" photo shoot that focused on female artists of color aged 50 and older.
The poem of the same title can be found in her book "Mama Movers/Sistah Shakers" – A Celebration of World Dreaming Wimmin. On August 7, 2022, Williams designed and performed what she calls a "Joyathon." For more than two hours, professional color artists presented a two-hour marathon non-stop presentation of the poetry and prose of Mr. Langston Hughes and Dr. Maya Angelou. The show took place inside the Robert F. Smith Performing Arts Center held inside Denny Farrell Riverbank State Park. The efforts and work of the participating artists, as well as Spirit in Sunset Productions, were recognized with proclamations presented by Ms. Nina Norwood, Deputy District Manager, Office of Congressman Adriano Espaillat NY-13. State Senator Cordell Cleare was also present that day and made a personal appearance presenting the artists with a proclamation. Ms. Minah Whyte, Community Liaison to Borough President Mark Levine, personally presented certificates of achievement earlier in the week.
"BYOJ" – Bring Your Own Joy! is now the title of a Coffee Table book published in June 2022. More "BYOJ" events will be featured this year. One of these will take place on Thursday, August 25, 2022. Williams will hold an artist talk outside Blick Art Materials at 4:00 p.m. Singer Lil Phillips, visual artist Sara Diallo and artist Rasheeda Shabazz will engage audiences with songs. and recounts their lives as artists and the creative process.
Williams Can't Wait To Produce A "BYOJ" – Bring Your Own Joy! podcast by the end of the year. Audiences are encouraged to contact Spirit in Sunset Productions via their email address – [email protected], to stay informed of upcoming "BYOJ" events.
Ryan Health Frederick Douglass and Blick Art Materials are accessible by public transit by taking the A, D, C, B and/or #2 and #3 trains to 125 the Street.
For more information, contact Spirit in Sunset Productions at (212) 368-3571, [email protected] or Ryan Health at (212) 222-5221 |ext.7826, www.ryanhealth.org
Related Articles
---
VIDEO

---
"We re-imagine, recreate and redeem cultural omissions and misrepresentations of blackness, for culture…." This post is made in Partnership with British pathe.