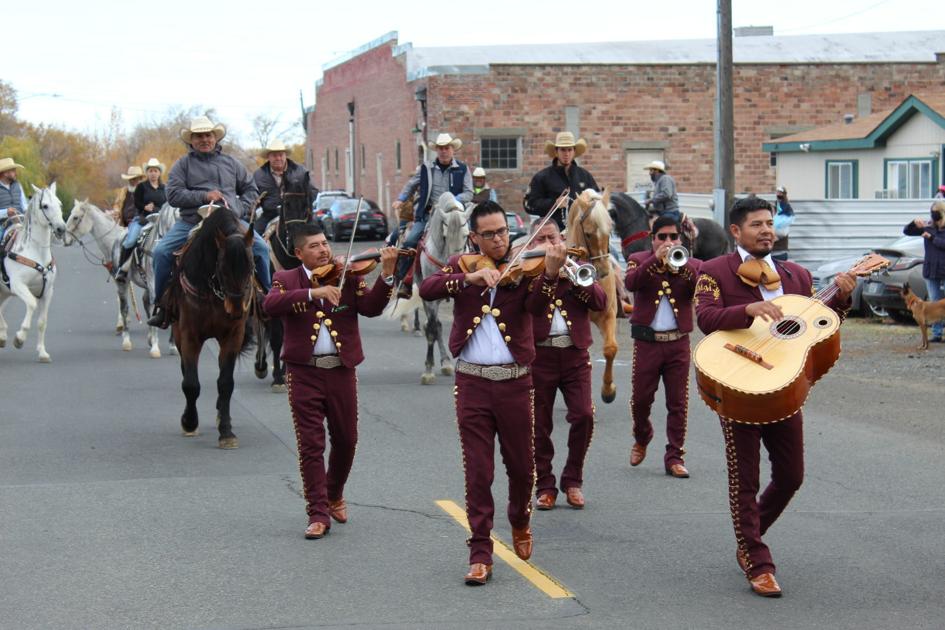 Dia de los Muertos celebration draws crowds to Tieton | Local
TIETON – Art exhibitions, a parade featuring dancing horses and a group of mariachis, as well as traditional musicians and dancers were just part of the attraction of the Dia de los Muertos celebration on Sunday after -midday in Tieton.
The other part ? Being able to enjoy it in person, unlike the virtual events that have become necessary over the past 18 months due to the COVID-19 pandemic.
Of course, masks were worn, social distancing was encouraged, and COVID vaccines and booster shots were available, but the more than 700 participants in Sunday's Dia de los Muertos activities inside and outside the Mighty Tieton Warehouse especially enjoyed participating and learning more about the traditional Latin American celebration.
"Look around, it's busier this year than ever as people are eager to do something and enjoy in-person events after last year," said Raul Sanchez, a poet from the region. from Seattle who attended the LitFuse Workshop and Dia de los Muertos Events in Tieton.
Dia de los Muertos, or Day of the Dead, is celebrated annually from November 1 to 2 by millions of people across the United States and Latin America. The holiday has its origins in the traditions of the indigenous peoples of Mexico and, with the arrival of the Spaniards in the New World, it became linked to the Catholic celebrations of All Saints and All Saints.
Sanchez stood near an ofrenda, or traditional altar, which Mexicans use to honor their deceased loved ones, and he discussed the skeleton-themed artwork of Jose Guadalupe Posada, which many associate with Dia de los Muertos.
He believes events like Tieton Sunday are a chance to educate residents young and old in the Yakima area about the Mexican cultural traditions that surround the holiday.
"When we collaborate, when we combine literature, poetry, music and artwork, we make it bigger and better," Sanchez said.
The event, sponsored by the Tieton Arts and Humanities group, is in its 11th year and will run until November 21. It started Sunday with a day full of shows, food and more, and an art exhibition.
The latter's centerpiece was a large sand painting by Oaxacan artist Fulgencio Lazo, which covered much of the floor in a large room filled with artwork.
Next to it, contemporary and traditional altars, displays of sugar skulls and paper marigolds adorned a stage with performances by AC Davis High School's Folkloric Ballet, Yakama Nation Little Swan Dancers and Sounds of the Past, a Portland musical group featuring Mexican Instruments and Aztec dancers.
A large skeleton sculpture created by Cindy Lemus, Rosie Saldana and Carlos Prada greeted guests as they arrived at the Mighty Tieton Warehouse. And participants enjoyed a parade around Tieton Square featuring the Mariachi Mexico group and a dozen dancing horses, hosted by Jose Muniz, with the Tieton City Maintenance Department.
Saldana, who helped coordinate the free event, was pleased with the turnout, which stood at over 700 midway through Sunday afternoon.
"We weren't sure what to expect coming out last year, but I think we did pretty well," said Saldana. "I think people were waiting for something fun to do, and it was a chance for them to come out and be a part of something fun."
Last year, the art gallery's exhibits were open to the public, but most of the performances have been moved online due to the pandemic.
This year, the community altar will remain in place until November 21, and visitors will be able to view it and place mementos related to their own loved ones on it the next three Fridays, Saturdays and Sundays, said Amber Knox, executive director of Tieton. Arts and Humanities. .
Aztec dancers will return for a 1 p.m. show on Saturday, November 6; and Jake Prendez will speak from 1 pm to 2:30 pm on November 13 on "The Art of Rebellion: Social Justice and the Chicana / Chicano Visual Arts". Both free events will be presented primarily in Spanish, with an English translation available on request.