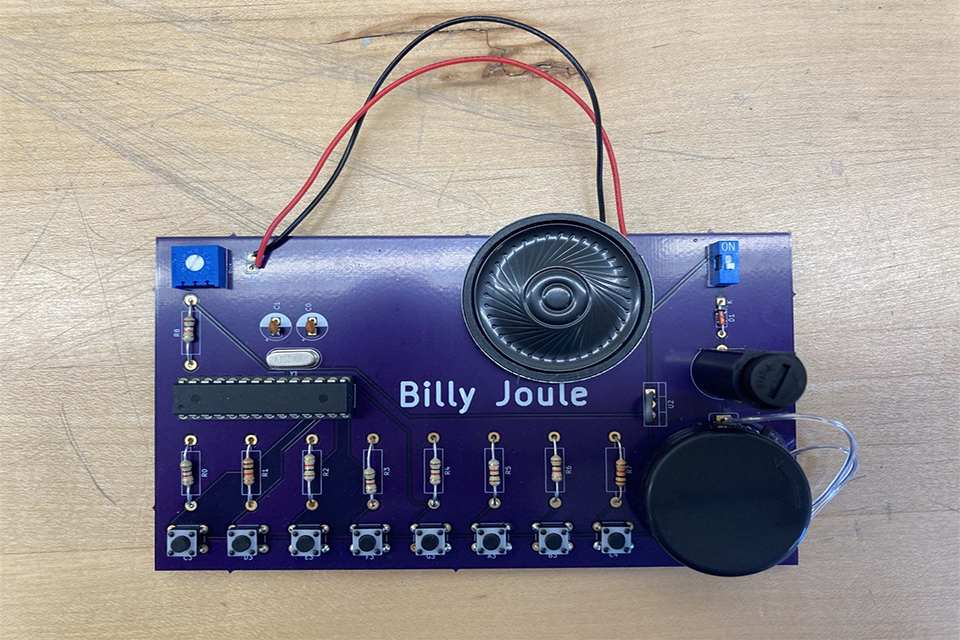 From "Simon Says" to "Billy Joule": Students create electronic games from scratch
From "Simon Says" to "Billy Joule": Students create electronic games from scratch
By Kennedy RyanMay 27, 2022
Francesco Vischi wanted students in his electronics lab class to apply what they had learned in the classroom to real-world technology. So he decided to teach them how to make their own electronic games – from scratch.
The course, offered each spring as an introduction to electronics in a lab environment, covers topics such as analog, digital electronics, and printed circuit board design.
The course incorporates a variety of electronic experiences throughout the semester. This year, however, was the first time the students created projects using industrial-grade printed circuit boards.
Vischi explained the importance of learning to use printed circuit boards, called PCBs. Used as an industry standard in gaming systems, military equipment, medical technology and more, these parts are fundamental in the world of technology.
"Using PCBs in the classroom is like teaching artists to use canvas, paint and brush," he said. "The actual result can range from a simple smile to an unbounded sky."
Vischi had the help of teaching assistant and physics PhD student Rupam Saha to guide the 15 students in creating their projects, ranging from electronic games to light switches.
Choosing from a list of ideas, students who chose to create games constructed a digital game dice, a "Simon Says" memory game where players repeat a color sequence, and "Billy Joule", a electronic piano with a name that plays on 'joule,' the term for a derived unit of energy.
Regardless of what the students chose to create, the most important thing Vischi emphasized was teamwork.
"I was really impressed with their results, seeing them work as a team," Vischi said. "The biggest thing I hope they took away from the project was the power of collaboration."
Starting from scratch, the teams used electronic breadboards to start their projects. These small building parts, only a few inches wide with small holes for input parts, are used to create electronic prototypes. Students learned the value of attention to detail when working with technology.
"A single mistake can easily derail the whole project," Vischi said. "They learned the need to manage their time and know their strengths and weaknesses," Vischi said.
Iria Wang '22, a course student who created a "Simon Says" board, enjoyed seeing the game's creation process from start to finish.
"The most useful part of the course was going through the design process and learning how to implement prototypes," she said. "We had to learn to work as a team while solving problems that arose."
A double major in physics and computer science, took Vischi's course because she wanted to gain experience in electronics. After her studies, she will work for the ATLAS experiment at CERNa national experiment in nuclear physics involving scientists from around the world, and began taking courses for a doctorate in physics at Harvard University.
"As a physicist, being able to work with electronics is important," Wang said. "I wanted to graduate from Brandeis with skills that I could apply to my career."
When the design and prototype portions of the project were completed, the teams moved on to creating the final product using the circuit boards.
"These fun projects show how such electronic circuits are actually implemented in industry," Saha said. "I didn't have such an opportunity during my undergraduate courses. Our students had learned how electronics work in the real world.