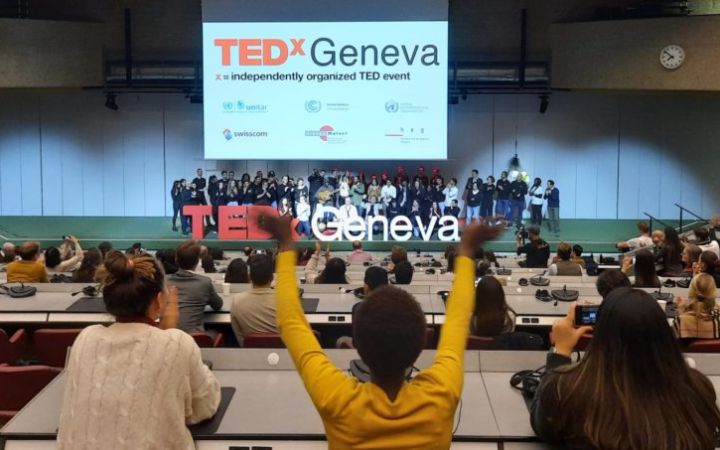 Geneva becomes fertile ground for innovative ideas on how to integrate the language of climate change
Geneva, Switzerland – On November 12, 2021, David Dao took to the CICG stage in Geneva to deliver a strong message to an audience of 300 people: Developed countries must work alongside indigenous communities, who are the custodians of the forests of the world, to stop deforestation and reward those who work tirelessly to preserve the planet's natural resources. David, who is a scientist at ETH Zurich and the son of two Vietnamese refugees rescued by a German ship in the aftermath of the Vietnam War, believes that indigenous peoples and refugees play a crucial role in the fight against climate change, but are often overlooked.
David Dao was on the lineup of The Tide Is Rising, a TEDx Geneva event supported by UNITAR, WMO and UNFCCC, which brought together six young speakers, a slam poetry artist and a musician in Geneva, Switzerland. , to give TEDx talks on how changing the language on climate change can lead to enhanced climate action to a wider audience. The Tide Is Rising was the culmination of 8 months of work, which included several planning and coaching sessions, and was the second TEDx event co-hosted by UNITAR.
The event, which took place in the context of COP26, aimed to spark a discussion on how the language shift on climate change could reach and involve more people. Although it is the most important challenge humanity has ever faced, climate change is often seen as a technical and unrelated problem, which often hinders understanding and action. The TEDx-style lectures, with carefully crafted presentations in partnership with a group of volunteer coaches from TEDx Geneva, helped inspire audiences on-site, but will also be turned into videos and made available to everyone on the TEDx website. TED.
In addition to David Dao, the programming included other young people engaged in climate action, such as Léa Geindreau, who is a full-time climate activist based in Paris, and Susana Hancock, an activist and linguist who believes that a Effective communication on climate change is all about "how you say it, not what you say".
"Words matter. They create our reality. Metaphors don't work when it comes to climate change "- Susana Hancock of The Tide Is Rising.
Art has proven to be a compelling way to get the message across, with artist and slam poetry activist Florent Mariaud and West African musician Djeli Moussa Condé delivering inspiring performances that captivated the public. Young scientists Dimitrios Terzis and Stephen Bell presented their innovative solutions to the public and confirmed that action against climate change and innovation go hand in hand. The power of language and young people as catalysts for change was highlighted by Amy Meek, an 18-year-old activist who founded 'Kids Against Plastic', a UK-based charity that works with over 1,000 schools to fight against the problem of plastic waste.
After the event, guests were invited to attend a post-event reception at the CICG itself, where they met and interacted with the speakers, and had the opportunity to network with the rest of the audience.
Read the full schedule for The Tide Is Rising here.
/ Public distribution. This material from the original organization / authors may be ad hoc in nature, edited for clarity, style and length. The views and opinions expressed are those of the author (s). See it in full here.