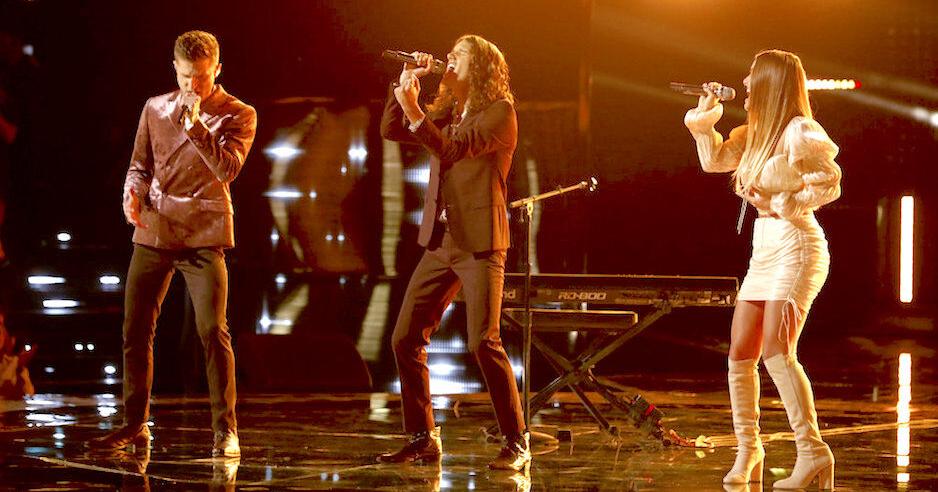 girl named Tom 'Rules the World' | Local News
LOS ANGELES – Challenge week kicked off Monday night on "The Voice" when the Top 10 took to the stage, with Northwest Ohio hopeful Girl Named Tom closing the show with their performance of "Viva la Vida "by Coldplay.
"These three have taken on challenges and have risked their entire lives," Carson Daly said of introducing the trio, "and so far it is paying off."
Speaking about last week's performance, Josh said, "It was crazy, we went to number 2 on the country charts on iTunes last week."
Kelly Clarkson, their mentor agrees: "You've all done some good. You looked so good. This week it wasn't going to be that easy, however, "… we're pushing the artist to go out" fish out of the water "because it's really cool to know other genres of music, and not just being on a lane. "
"You've done a lot of different genres before, so I thought Coldplay was cool, because nobody's ever heard you with that kind of sound," Clarkson added.
Caleb was quick to admit, "I love Coldplay." Bekah and Josh were a little harder to convince.
"I'm not going to lie, I was like ahhh! It's challenge week… "Josh said.
Bekah replied, "It's a different vibe. "
Caleb also said, "This is their anthem, a very important song."
Hoping to push the trio, Kelly added, "What's cool about Girl Named Tom is that they started out as folk, songwriter, and now I have them in Challenge Week. doing this big, huge stadium vibe song and it's very different from their sound, so I'm pretty happy with that.
"You keep telling us to grow up and take a risk – and this whole group thing was a risk, we were going to be doctors," Josh admitted.
"What?" Kelly said in surprise.
Bekah clarified, "Our grandfather was a family doctor in a small town in Indiana. We absolutely wanted to follow in his footsteps.
Josh added, "Caleb and I graduated from college with a major in biochemistry and we were looking for medical schools. Bekah was looking at the same track when our mother suggested, "Why don't you get a band? It didn't take long for us to accept it.
Kelly said: "We would have missed their music, that sound right now. So I'm very happy that they didn't become doctors.
"We want to get people out of their couches (with this performance)," Josh said.
The energy of their performance – moving on stage to vocals with confidence – manifested itself.
After the performance, Girl Named Tom tweeted: "It was IRREL!" and "Challenge Week was so much fun !!!"
Blake Shelton was the first judge to comment on their performance.
"I love that you make it change because I think individually the three of you have so much to offer as singers and as frontline people for the band. And then when you get together it just makes it even more powerful. And it was probably the best performance you've had so far.
"You know, one of my favorite shows that I attended was Arcade Fire," said John Legend, "and I loved watching them like changing instruments and moving around on stage, like playing different roles. in the band, and I was imagining what your concerts will be like, how fun they could be, and how you could play different instruments, do all kinds of different things.
"It's such a cool family band and seeing you having fun on stage together and being musicians on stage together. It's so much fun for us to watch. I love everyone Girl Named Tom, "added Legend.
Kelly couldn't stay silent: "With Challenge Week, I feel like it was anyone's biggest challenge. You've all been up against Coldplay and you usually do folk stuff. It's totally different. And it was so amazing to see your energy and all of you flying around the stage. It was so cool, Caleb, that it was your idea to do the drums thing … it was so cool.
"You are such a great band and you have such a great bond, and that's why your harmonies are so incredibly tight. And that's what makes you so special. Thank you all for choosing me," added Clarkson.
Voting began at 8 p.m. on Monday and remained open until 7 a.m. Tuesday (today). Two artists will return home this round after the counting of the votes on Monday evening.
For anyone who has not downloaded the "The Voice" application on their smartphone, vote for the trio can be done by going to NBC.com/voicevote and create an account.
There are only a few laps left in the competition. Ultimately, an artist will win the grand prize – a recording contract.
"The Voice" airs on NBC Mondays and Tuesdays at 8 p.m.