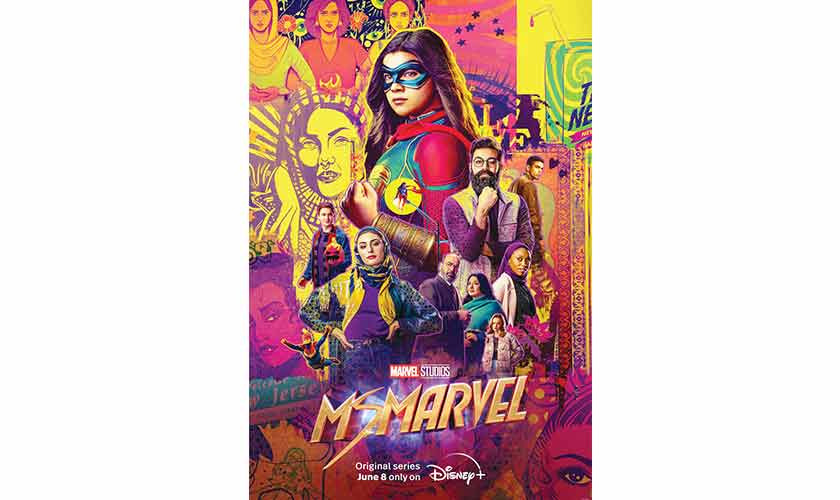 Janoobi Khargosh talks about being part of Ms. Marvel OST | Camber
Ms. Marvel, the new series from Disney Plus, makes all the right choices. With Pakistani-Canadian actor Iman Vellani in the lead role of Kamala Khan/Ms. Marvel, the series is winning people's hearts and minds. The episodes are shown in Pakistani cinemas – for one thing. But, beyond that, a superhero series that keeps the brown culture in mind and Pakistan's Sharmeen Obaid-Chinoy strings as a director is another reason to cheer her on.
The South Asian flavor isn't limited to the Oscar-winning Pakistani director. Actors Fawad Khan and Nimra Bucha also appear in the series. But the biggest surprise is the music department and what a brilliant surprise it really is.
At least two Coke Studio 14 songs, such as 'Peechay Hutt' by Hasan Raheem, Talal Qureshi and Justin Bibis and 'Pasoori' by Ali Sethi and Shae Gill, are part of the OST, with a song by Eva B titled 'Rozy'. In the episodes, there are other moments that pay homage to Pakistani music. But those wondering about other names attached to the music department can be delighted as Janoobi Khargosh is also part of the OST.
Besides the Swet Shop Boys who feature in past episodes, a song by Janoobi Khargosh, the group's cult favorite called 'Cpt. Space' will appear in one of the episodes.
Waleed Ahmed, who runs Janoobi Khargosh, confirmed the news to Camber and noted how "incredible and very unexpected" this selection was.
Part of the reason is also the fact that even though Coke Studio 14 the songs are as mainstream as it gets, Janoobi Khargosh has a following, but it's not close to a platform like Coke Studio.
"Well, being approached directly by Marvel Studios for the song was a big surprise," Waleed said. Camber, "It's a great feeling to know that it's not because of numbers. We can learn a thing or two from this because there is some truly amazing music being produced here in Pakistan that needs to be explored.
If you're not (yet?) familiar with Janoobi Khargosh, head over to their artist page on any major streaming site and find their work, including albums such as survivors (2019), Billi Khamba Aur Urantashtari (2014), and the 2018 synth pop soaked EP titled Cpt. Space which contains five songs.
As for Coke Studio 14's music recorded by Ms. Marvelproducer and curator of the musical series, Zulfiqar Jabbar Khan (Xulfi), while talking with Arab News noted how Ms. Marvel and Coke Studio 14 is about representation and awareness of what Pakistan is on a global scale. "Through art, we tell our identity to people," he said. "We are offering something extremely interesting and exciting to the world; the way we are and the kind of music we have.
If MCU (Disney's parent company) pulled in record numbers and wowed critics with how Black Panther represented African culture and the African American experience, Ms. Marvel did a good job in its portrayal of brown culture. The series centers on the experience of a teenage girl named Kamala Khan who loves superheroes as the character Brie Larson (Carol Danvers/Captain Marvel) in Captain Marvel. But somewhere in this adulation of other superheroes, Kamala Khan becomes a superhero after gaining powers herself. What the addition of Janoobi Khargosh says is that Marvel Studios isn't necessarily only interested in songs with high numbers. And, like everything else in the series, it was also a good call because the series will take Janoobi Khargosh to several territories and introduce his music to many people.–Ms. Marvel poster by Shehzil Malik, 'Cpt. Space artwork by Umer Ahmed
Natasha Noorani explains how Coke Studio 14 paved the way for 'Faltu Pyar'
asan Raheem, Natasha Noorani and Talal Qureshi 'Faltu Pyar' is an ambitious visual experience effort. But what makes the song so cool is how addictive it is and creates space in your head.
What the three artists also have in common, apart from 'Faltu Pyar', is their respective role in Coke Studio 14. Hasan and Talal Qureshi (joined by Justin Bibis), unleashed the colossal electronic banger, 'Peechay Hutt'.
Meanwhile, intriguing artist and ethnomusicologist Natasha Noorani has joined a handful of musical experts as part of a think tank created within the musical series.
According to a member of the think tank, he played an important role in the curation process, including the artists who were ultimately selected. Although Xulfi served as the executive producer and curator, he received suggestions from the think tank.
In its 14th year, expectations for the music series were higher than any other platform. In a way, it has become a rite of passage for musicians.
Talking about his experience as Coke Studio 14 member of the think tank and how it paved the way for 'Faltu Pyar'Natasha Noorani noted that her role was to serve as a commissioner in Coke Studio 14. "It was about identifying artists who work and make sense together," she observed, "which upcoming artist has the most potential in terms of vocals and original songwriting."
She told how it led to the early days of 'Faltu Pyar'. 'The thing with 'Faltu Pyar' is that Hasan, Talal and I ended up in the same room and decided to work together on music. We have written many songs including 'Faltu Pyar' is only one. It happened organically. We were just sharing music; Hasan started playing guitar, Talal just added this crazy beat, Hasan wrote his verses and I wrote the chorus. I think Talal and Hasan really pushed me to experiment and it paid off so it was a great moment of mutual collaboration.
Working with Talal Qureshi (with whom Natasha has previously collaborated), according to the artist, was an "easy and smooth experience".
"He'll take the foundation of an idea and elevate it and that's one of the strongest parts of the song. I think the chemistry that Hasan and I were able to put into our lyrics and the jovial nature with which we got to shoot the music video weren't premeditated. It was a wonderful collaboration all around and I hope people get that sense of the song and the music video. – Photo by Anoosh Zeerik