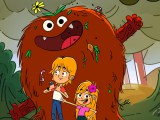 Kidscreen » Archive » France Télévisions gives the green light to Moi et Mon Compost
France Télévisions orders a 2D animated comedy Me and my compost French productions Superprod and Vivement Lundi! teaching ecology to children.
The 52 x 11 minute series shares ideas about caring for the environment with children aged five to eight, as a compost creature and his human friends learn about activities such as recycling and gardening. The project is still in development and the studios expect it will take around 18 months before it premieres on linear pubcaster channels, according to a Superprod spokesperson.
France TV has also ordered an eponymous short series of 52 x 3 minutes which will be broadcast live online. It mixes live action and 2D animated segments highlighting real-world programs and kids making a difference.
Me and my compost premiered at Cartoon Forum last year and has since won support from France Télévisions, Rennes Métropole, Créative Europe, CNC, Procirep, Angoa and Cinécap 3. Both the web and linear series are adapted from the book The Zero Waste Family by Jérémie Pichon and illustrator Bénédicte Moret.
More than 90% of children in EMEA are concerned about climate change and 83% want to do more to protect the planet and the environment, according to a 2021 Cartoon Network survey. Other broadcasters are joining France Télévisions in responding to this call. Last November, Canada's TVOKids, SRC Radio-Canada, Knowledge Kids and TFO gave Vancouver's Big Bad Boo Studio the green light. Galapagos Xa series about children who travel through time to prevent eco-disasters.