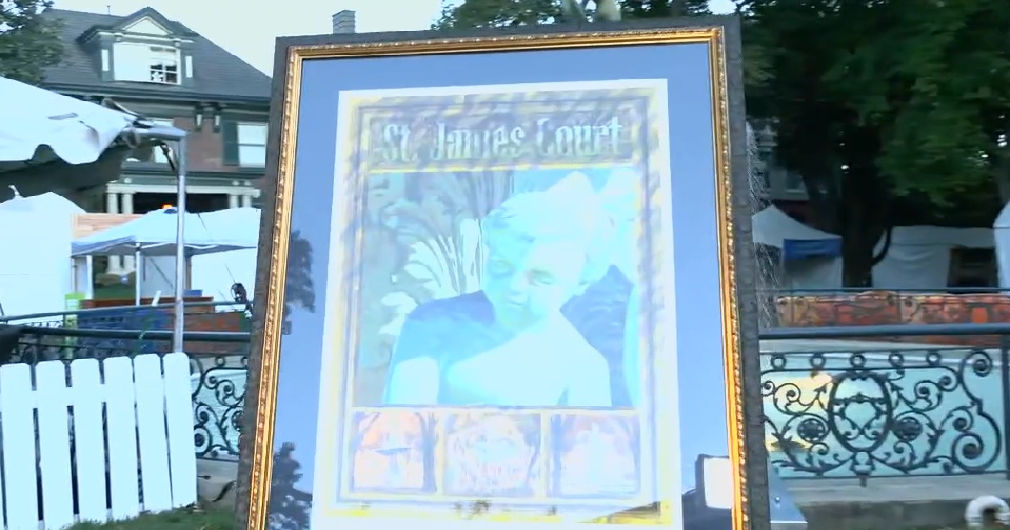 Old Louisville's St. James Court Art Show, now in its 66th year, continues through Sunday | New
LOUISVILLE, Ky. (WDRB) – The St. James Court Art Exhibit in Old Louisville is underway.
The show – now in its 66th year and featuring more than 600 performers from across the country – opened at 10 a.m. Friday and runs until 6 p.m. The hours are the same on Saturday and the kiosks will be open from 10 a.m. until 5 p.m. on Sunday.
The artists who participate look forward to it all year round, recognize the history and appreciate the craftsmanship. Artists like David Gomez.
"I have a series of space-themed artwork," Gomez said. "This one is about Mars and our quest to explore outside of our planet."
Or Michele Strotman, making sure people know how to find his Crazy Chicken Lady Art.
"No one could remember my name, but they could remember the name of my artwork," Strotman said. "They always called me the crazy chicken."
She continued, "It's one of the most renowned shows in the country. I've heard about it all my life and the caliber of artists who are here humbles me to be included."
Arts Fund President and CEO Andre Kimo Stone Guess says the event is as much about the neighborhood as it is about the artwork on display.
"Look at the beautiful backdrop, it's in the middle of a beautiful neighborhood," Guess said. "Old Louisville has the largest contiguous cluster of old Victorian homes in the entire country. The neighborhood itself is a work of art."
Guess said people visiting this year will also have the chance to appreciate performance art.
"We are partnering with the St. James Court Art Show at Fund for the Arts to create a local performance village on the south green," Guess said. "We are going to have 17 different performances, every hour on the half hour, starting at 1:30 a.m. today."
Performers will include members of the Louisville Orchestra, Louisville Folk School, and dance studio performances. Louisville's Actors Theater will also be there with a preview of their new play. In total, more than 100 artists from 12 different organizations will perform.
Mark Bird, an artist who has been with the event for at least six decades, is back this year. One of his watercolors is emblematic of the art exhibition experience. It features the iconic St. James Court fountain and is titled "St. James Court".
"This is the third in a series of fine art prints that we've titled 'A Sense of Place'. And the series revolves around the location: St. James Court," Bird explained.
"I have been producing posters for this exhibition since 1981. But this time and over the previous two years, we decided it was time to talk about and illustrate this beautiful place. That's why 600 artists return to the St. James Court Art exhibition is to feed as artists on this magical place."
Interestingly, Bird's uncle Malcolm Bird founded the St. James Court Art Show in 1957, and Bird never forgot the day someone bought something he had made while he was only 9 years old.
"I still remember that magical moment when this lady walked up and said she would pay $5 for my painting. And I was hooked. Here I am, still here."
The event is rain or shine (unless there are severe storms). Dogs and other pets are not permitted.
More than 225,000 people are expected.
Click here to see the list of road closures and areas where you cannot park.
Copyright 2022 WDRB Media. All rights reserved.