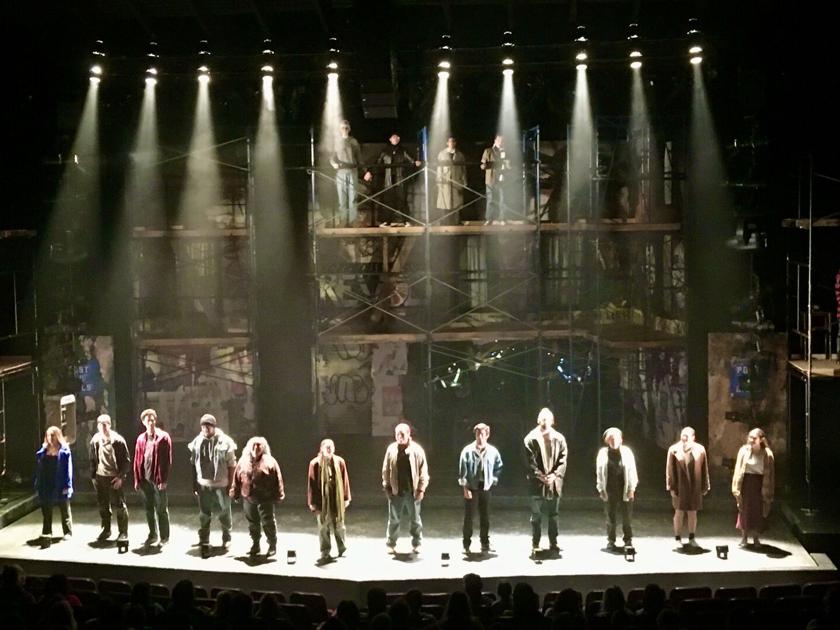 Seasons of change | To organise
In 1996, a hundred years after Puccini's "La Bohème" chronicled a Parisian demi-monde of impoverished artists, Jonathan Larson's "RENT" did the same for the artists and rebels of East Village in difficulty. His musical, which won a Tony Award and a Pulitzer for drama, struck a chord and defined an era – a period in which the creative community was wiped out by AIDS.
Our own pandemic, equally global, equally deadly, makes Ithaca College Theater's choice to stage "RENT" painfully appropriate. Under the inspired direction of Cynthia Henderson, this powerful production, featuring 22 talented young actors and over 40 songs, is a tsunami of staging and emotion.
The world of these bohemians, squatters in an unheated building, is marked by drugs and disease, homelessness and prostitution, anger and despair. But it's also fueled by creative dreams – Mark (Tristan Tierney) is inseparable from his camera; Roger (Hunter Kovacs) tries to pick "just a good song" over his old Fender.
The downtime of their lives is countered by their vibrant camaraderie and friendship, a community that includes Tom (Anthony Garcia) and his drag queen lover, Angel (Michael Marrero); and Mark's former girlfriend, performance artist Maureen (Amanda Xander) and her new lover, Joanne (Alaysia Duncan). And of course there is Mimi (Sierra Martinez), assertive and seductive, far from the wilted flower of Puccini.
The camaraderie extends to everyone else in the neighborhood living marginally, eluding the cops, hardly imagining anything better. This wave of humanity is fascinating and yet familiar (thanks to the cast and costume designer Nicole Brooks, one of the four seniors who designed the show). Residents of the Lower East Side crowd the levels of Olivya Deluca's ramshackle decor, metal scaffolding above boarded up windows and endless graffiti. The six-man group, led by Chris Zemliauskas, lurk in the back, making their hearts beat faster.
All the action (Daniel Gwirtzman, choreography) is made unforgettable in a succession of striking stage images, couples, trios or the whole. The most memorable, and the most comical, is a long feast table with everyone gathered around, echoing Da Vinci's "Last Supper"; most touching are designer Kyle Stamm's breathtaking washes and light cones.
Henderson quickly drives the story in layers and the cast performance is fully engaged. Maureen d'Alex creates a street theater to protest against their eviction by their former comrade Benjamin (Neftali Benitez); his cow-poem performance is a superb comedic parody. As lesbian lovers, Alex and Duncan train endlessly. Mimi de Martinez is as tough as Mark de Tierney is sensitive, both equally motivated by what they desire.
An otherworldly element comes from Angel, the drag queen whose gentle wisdom calms their conflicts. Skinny and imposing in baby girl dresses, Marrero gracefully steals everyone's hearts.
All the quarrels and ruptures are mended by the music, from the catchy "La Vie Bohème" to the tender "I'll Cover You" and to the nostalgic "Seasons of Love", recording a passing year. When the HIV support group sings "Will I Lose My Dignity," the anguish is palpable and the memory of those we have lost to AIDS merges with the vividness of those we have recently lost – a eloquent moment in a remarkable production.
"RENT", book, music and lyrics by Jonathan Larson; directed by Cynthia Henderson. Hoerner Theater at Ithaca College, November 17 and 18, 8 p.m. Tickets at 607.274.3224.
***
At Cornell, similar themes of time passing, loves won and lost and imminent death appear in the comedy drama "Seven Homeless Mammoths Wander New England" by playwright Madeleine George '96, directed by Samuel Blake. At a small liberal arts college somewhere in New England, Dean Cynthia Wreen (Samantha Noland) must defend the decision to demolish the tired but darling natural history museum on campus to make way for a spa-like dormitory. . As students and townspeople protest, Wreen also faces upheaval at home.
Her new-age lover, Andromedea (Yue Aki Ji), 20 years younger, is among the protesters, and her old friend, the sweetheart of her own youth, philosophy professor Greer (Kit Ellsworth), moved in with them at Wreen's insistence – Greer being weakened by a relapse of her stage IV breast cancer.
Greer is grounded and sensitive, a touchstone of normalcy. Wreen, consumed by her work, turns into a pragmatic administrator who can justify any collateral damage. (She offers to donate the mammoth skeletons in the museum to local businesses… to display and decorate them.)
Andromeda is pure-hearted but overly childish, enthusiastically sharing spiritual truisms and rituals that older women cannot relate to. (We get the gist; unfortunately, less than half of his quick speeches were decipherable.)
The dean and her young lover are criticized here as types, but we are also asked to invest in them. Another concern is that the script details each encounter to the max, stretching the output to nearly three hours. A wise cut would speed up the pace and leave something to the imagination.
The simple setting, by Jason Simms, features an old museum room with a natural history diorama, flanked by display cases featuring random stuffed animals. And it is this space that offers comic relief, which comes in two forms: the old museum keeper (Trence Wilson-Gillem), who darkly reads aloud passages from the local newspaper, and the surreal element of four. first humans in wild skins and wigs, which first appear inside the diorama, then appear elsewhere. They pose motionless, as in a shop window, in the midst of skinned animals or ground corn –– while conversing in contemporary discourse on ordinary concerns, such as relationships and drugs and money.
It's a fresh and entertaining device in a play exploring, in Andromeda's words, "alternative kinship structures".
"Seven Homeless Mammoths Wander New England", by Madeleine George, directed by Samuel Blake. At Cornell's Flex Theater, November 19 and 20, 7:30 p.m. Free and open to the public.
Barbara Adams, regional arts journalist, teaches writing at Ithaca College.