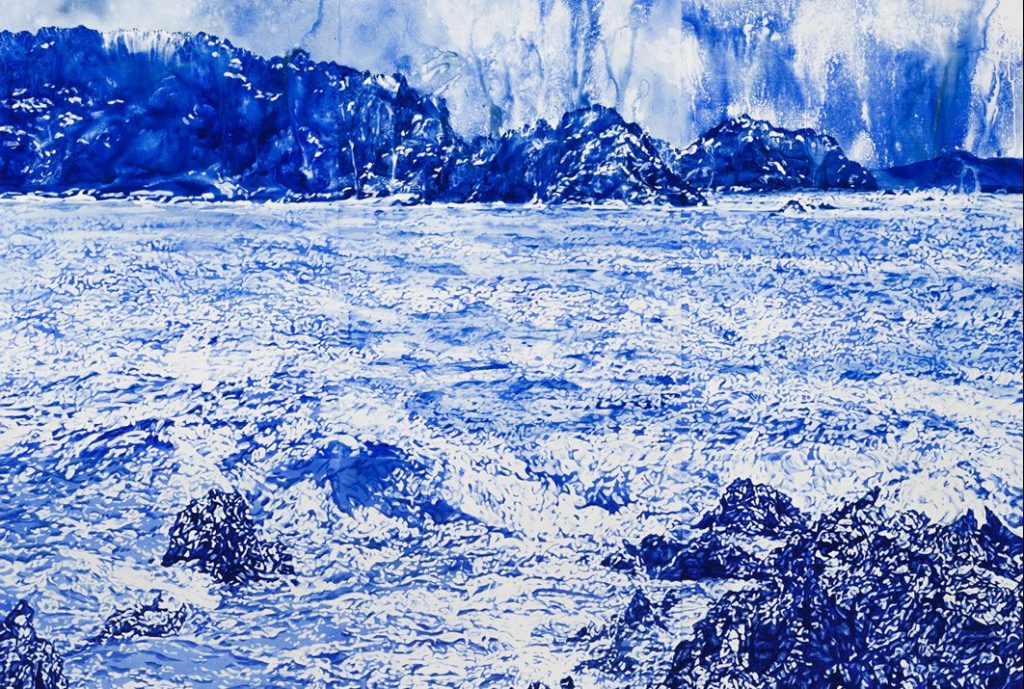 The paper prize encourages artists to push the boundaries
Danny Lacy, the director of the Mornington Peninsula Regional Gallery (MPRG), is eager to see how artists engage with the "surprisingly malleable" medium at the heart of the gallery's annual prize, the 2022 National Works on Paper.
"When you let artists get started, they tend to push the boundaries of what paper can do, sometimes even further than we probably thought," enthuses Lacy.
Founded in 1998 (and incorporating the Spring Festival of Drawings and Prints acquired from the Museum which began in 1973 and 1974 respectively), National Works on Paper inspires artists to explore paper as a medium in a myriad of ways.
"It really is an open book," Lacy explained. "For example, in the past, artists like Deborah Kelly have gone into a video work, which was this amazing paper animation, and in 2020 we had a performance by Brian Fuata, which was the first time a work of this nature had been a finalist.
"It's really amazing to let artists have their way with paper and let them push the limits as much as they can.
"Having said that, even in terms of drawing, printmaking and painting, it's amazing what artists are creating with paper right now. It's fantastic," Lacy said.
Artists are limited only by their imagination when it comes to participating in the prize, as long as their work is executed on or with paper and the paper acts as the primary two- or three-dimensional support for the work.
Registration is now open and closes at 11:59 p.m. AEDT on Friday, April 8, 2022. Rules and guidelines are available on the gallery website. The winning artist receives $20,000 and the prize is acquired. The total prize pool is valued at $60,000.
Lacy urged artists to be true to themselves and their practice when considering what good work to grab.
'Think about work and how best to articulate your thoughts about it. Why are you passionate about this work, why are you passionate about doing this work? It shows in the applications, the way people write about their work. You can really tell people who are passionate, who want to explore their practice and push their practice," he said.
These passions are reflected in the types of paper used by artists in recent years. "There has been an increase in homemade papers or pulp paper, where artists have made their paper from scratch."
Lacy also observed "that in the last two National Works on Papers there has been an increase in traditional analog photographic entries. Traditionally, photography was separate from printmaking or drawing, but with the nature of analog photography and artists printing works on paper themselves, we've seen an increase in the number of works submitted, which is great – this opens up the prize to a whole other group of artists who may not have previously participated.
As for practical advice for artists considering participating in National Works on Paper 2022, Lacy encourages them to subscribe to the Gallery's electronic newsletter.
"Over the next two and a half months, we will be sending out a number of e-newsletters containing tips and advice, as well as additional information on how to submit applications," he said.
It is important to note that MPRG undertakes to give its opinion to the artists who participate in the prize.
"For the 2020 award, we offered feedback on unsuccessful nominations. We got close to 1200 applications and I ended up personally giving close to 200 artists individual feedback – which included generic feedback, of course – but we just thought that was a great personal service to offer because a lot many people participate in art prizes and so often they don't hear anything. They get the receipt and that's it. But hopefully, based on these comments, we'll actually see some very strong repeat entries from these artists this year.
Registration for National Works on Paper 2022 is now open. Visit the Mornington Peninsula Regional Gallery for details.