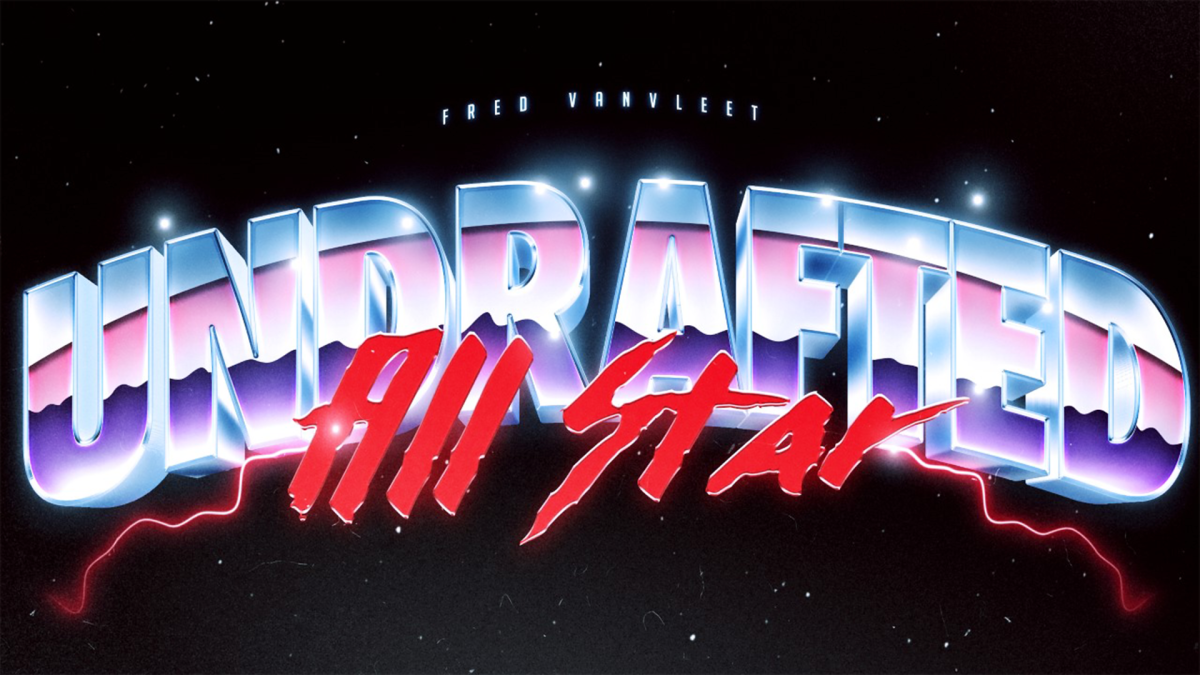 The Toronto artist behind the campaign to make Fred VanVleet a star
Fred VanVleet has been on an absolute radiator lately.
Make no mistake: The 6'1" guard has been successful all season since taking over from Kyle Lowry as the Raptors' general, leading the team in scoring while leading the league in minutes per game. But since returning from a COVID-induced layoff that included two missed games due to entering league health and safety protocols and two postponements in late December, Steady Freddy has upped things d 'a notch.
In fact, cut it several times – during a string that didn't coincide with the Raps snatching the season's best six consecutive Ws, VanVleet recorded a jaw-dropping 30.3 ppg, 6.5 apg and 4.8 rpg on his way to earning his first career triple-double and his first career Eastern Conference Player of the Week.
The recent tear came at the perfect time for the Raptors and VanVleet, as Rockford's Finest pushes for another career first: his first All-Star Game selection.
"Don't think he doesn't," Casey Bannerman told me with a laugh, when we recently talked about the Toronto-based artist/illustrator's latest project, a collaboration with VanVleet's boutique FVV intended to promote Fred's All-Star. to push. "Fred has been unreal. It's amazing to see what he does night after night.
While Bannerman is quick to point out that VanVleet has always been "an 'everything the team needs' type of guy" as opposed to a "numbers type", recent numbers have been pretty unmistakable. Still, even though VanVleet has lit up the league, he currently ranks eighth among Eastern Conference guards. in fan voting for the All-Star Game– behind the likes of Derrick Rose (who missed much of the season with an ankle injury) and Kyrie Irving (same, except in his case it's because of the anti-vax stance to Irving's galactic brain).
This disrespect, along with VanVleet's recent play, helped spur the #DidYouBetOnFred? campaign, Bannerman said, pointing to the relative lack of media attention the Raptors guard has received south of the border despite his recent hot streak. That's nothing new, of course, for Fred or Raptors fans, though there are signs that slowly begin to change with each 30-point explosion.
"Being here in Canada, you have to really push to be like, 'Hey guys, just so you know, this person accepts Numbers.' "
Just compare Fred's coverage to that of fellow Western Conference Player of the Week Ja Morant, Bannerman said. "There's not even a comparable buzz in the American media around a guy like Fred, who, if you compare the numbers, they're really, really close."
Then again, VanVleet has created an entire brand to not be overlooked (literally) – and this season in particular, it feels like he's finally starting to cash all those chips on his shoulder as he tries to move on. undrafted underdog to NBA All-Star, an unlikely arc that Bannerman and VanVleet used for their latest collab, a limited-edition long-sleeve shirt encouraging fans to "bet on Fred."
"Obviously Fred is always going to try to be the best player he can be. But once I realized this All-Star business was very serious, that's when I approached Fred and his team," Bannerman recalled "I thought maybe a long sleeve is a good layering piece that people can wear at home and take a picture of themselves, because we all watch the games from home anyway. , is not it?"
From there, Bannerman and VanVleet and his team went through a few different iterations of the design, including one of Fred showing off the chipped tooth he picked up in the 2019 NBA Finals. just a bunch of stuff on the wall and you see what works," he laughed. In the end, they settled on the retro "Undrafted All-Star" design seen above, paired with FVV's now-iconic dice (with 2s and 3s front and center for #23, of course). "I wanted it to almost look like an action movie from the late 80s and early 90s."
"We had to go really fast," he said. "I knew that fan voting ended on January 22… I was like, oh, I need to get this into people's hands as soon as possible." The response has been great so far – the shirts are basically sold out, according to Bannerman, though they may make more available for pre-order to (hopefully) celebrate VanVleet's impending All-Star selection, whether it's eventually elected by fans or by coaches as a reserve.
It helped that the two were longtime collaborators; Bannerman also designed the personalized backpacks that VanVleet recently distributed to at-risk youth in Toronto, as well as the toques, socks and gloves distributed in the winter care kits as part of the "Heart of the City" initiative. by VanVleet. (Bannerman and the FVV shop team also collaborated on a shirt commemorating Fred's 'big dice' celebration a la Sam Cassell in November. "I remember going, 'Yo, well, let's pay this fine," he laughed. "They did super well. A bunch of players got them too.")
"I think that's why Fred and I have been such a good cultural fit," Bannerman said, explaining that the two share a similar work ethic. "We started with a little project two years ago, for his clothing company. And I think I must have brought him about 20 designs. I was like, 'OK, do you want to see one? I'll show you 20. I'm going to show you a whole collection of them."
"I think from that point on he was like, 'OK, this guy is real. Like, he's not kidding.
In fact, it was VanVleet's early endorsement that Bannerman says gave him the confidence to bet on himself and pursue art full-time. As a child, he grew up hanging around the back of his parents' clothing store in Peterborough, sketching to pass the time. "There was just an abundance of these BIC Cristal pens and old pieces of paper with commands on the other side. So I just sat there and drew," he recalls. But there was never really thought of as a potential career." In practice, it didn't seem like something I could make a lot of money with. Everybody, the teachers, anybody in my life said, "That's great, but you need a plan B." And then when you hear enough of that, you don't think your plan A is a plan A anymore.
A quarter-life crisis at age 30 led Bannerman back into art, and as a rabid NBA fan and Raps subscription holder, he slowly built a following on Instagram with his Raptors art. . "I used to do these Photoshops that were so dumb, looking back on it now, but it would be like DeMar and Terrence Ross as Ricky Bobby and [John C. Reilly], from Talladega Nights. And then DeMar reposted that. Over time, he developed his now iconic comic book-inspired style: "Drawing basketball players, I realized that, for me, there was no closer equivalent to Superman's cape than a basketball jersey with your name on it."
Then, during the 2018/2019 season, MLSE and the Raptors presented Art of the North, a Raptors-themed art exhibit that Bannerman participated in. tagged him, and he contacted me directly and was like, 'I need this for my clothing line. It's cool.' He never ended up having this [specific] room. But it led to our professional relationship.
"To this day, I'm so grateful to Fred for making me realize that I can make this not just my career, but a lucrative career that supports my family."
These days, Bannerman designs everything from apparel to prints to custom hand-drawn jerseys for a client list that includes a number of NBA players – insert Drake's obligatory quote here "Start with the low".
He worked for VanVleet's backcourt predecessor, Kyle Lowry (a Villanova jersey framed with art from Lowry and his sons), and Norman Powell, to commemorate the former Raptors' time in the 6ix after being traded to Portland last year. "It was quite touching. His family contacted me saying that he had always loved my jerseys and hoped to see one someday. In 2020, he collaborated with Toronto jeweler Shuly Eizicovics to create a pendant commemorating Pascal Siakam's late father ("What's really cool about this piece is that I can tell it really means something to him because he wears it all the time," I was told. he says.)
"There are times when you're a little starstruck, that's for sure," Bannerman said of his celebrity clients, though for the most part he tries not to fanboy too much. "But I'm not going to pretend that sometimes it's not super cool. I had a thing with Jayson Tatum where I gave him a jersey recently," he recalled with a laugh. "This time, I can't even pretend that I was cool. I was not."
And, yes, Bannerman still enjoys seeing his work out in the wild, whether it's a walk through a tunnel or a social media post. Or, in the case of his latest collaboration with VanVleet, on the Raptors show. "Thanks to Matt and Jack, they pulled it off."
Don't be surprised if you see some of VanVleet's teammates wearing the undrafted All-Star jerseys between now and the 22nd, either. "We gave them to his teammates. Can't say too much, but some OVO guys got them. That's all I'll say for now," he teased. "Certain media in Toronto and outside Toronto. The guys from the "All the Smoke" podcast, Stephen Jackson and Matt Barnes. Dallas Green from City and Color and Alexisonfire. A group of people."
"Things like that, you just put it in people's hands and hope they wear it," he continued. "But mostly, I just want people to vote for Fred. Take him to the All-Star Game. He's an amazing person, and he's an amazing basketball player, more importantly.
"It's a great unifier to have everyone behind this and to have this guy who was not drafted for the All-Star Game. Fred's story, it's something in which I think that we all kind of see ourselves being the underdog and proving others wrong.