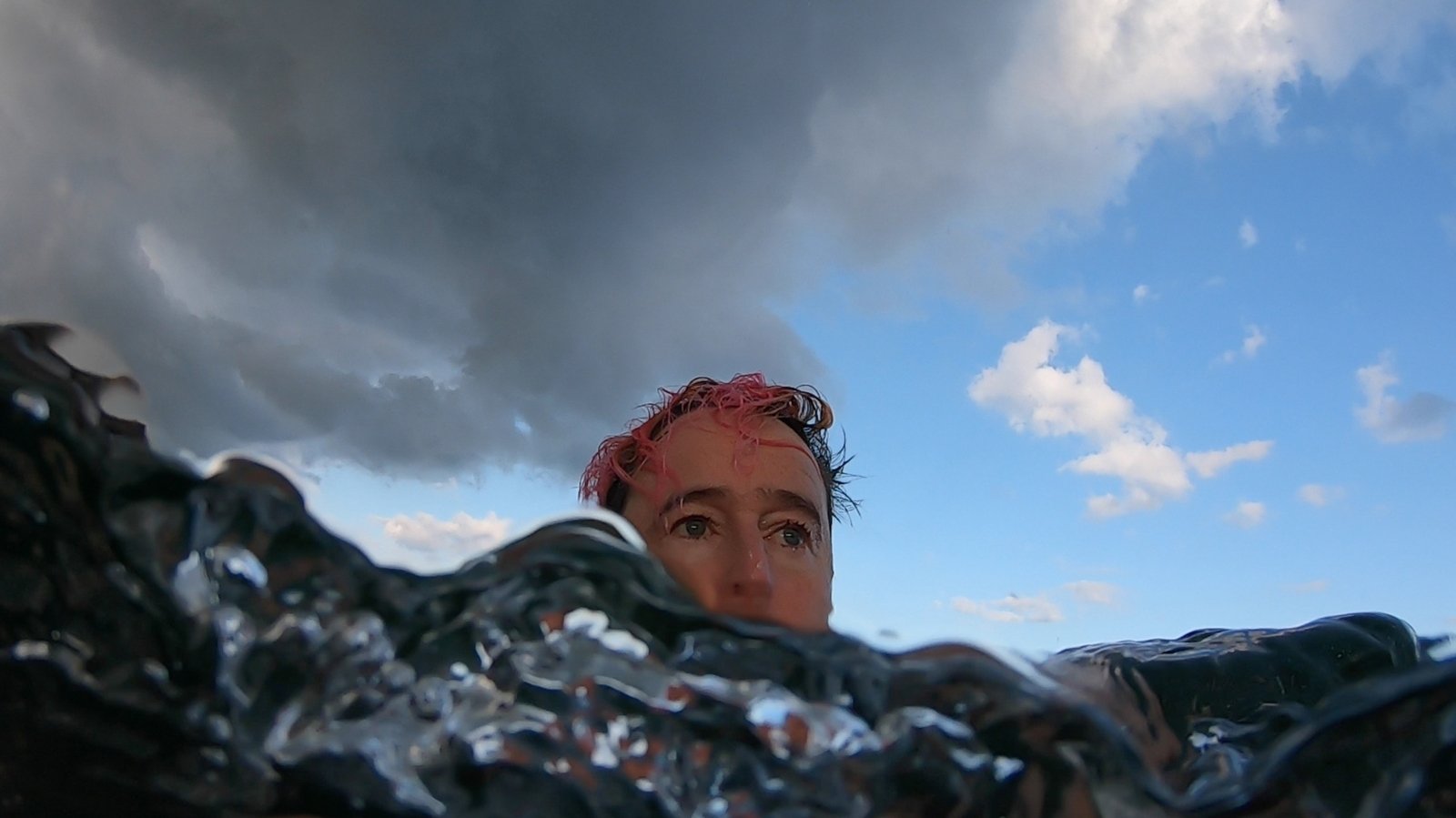 Vanessa Daws on the art of long distance swimming
Artist Vanessa daws writes about the latest installment of his project, Swimming A Long Way Together, and how you can get involved … but bring your clothes.
I am a visual artist and a long distance swimmer. I have always swam, not competitively or particularly well, but when I pass a body of water, be it a pond, fountain, lake, river or sea, I find it hard to resist the urge to swim. In recent years I have started training to swim longer distances, these swims were part of my art projects including swims to and around Lambay Island in Dublin Bay, and in 2018, I was the first known person to swim the Lough length mask in County Galway.
My artistic practice revolves around swimming. I collect research for projects through swimming, conversation and chance encounters. I work with cinema, sound, drawings, sculpture and create live art events with different communities, in different disciplines, all connected through a particular body of water. In recent years, I have created projects in aquatic spaces as diverse as the frozen river Pirita, in Estonia; the Rideau Canal in Canada; The President's Fountain, Bulgaria, and the M50 Aqueduct in Dublin to the Ballycroy Bogs in County Mayo.
In 2019, I spent more than 12 hours in the Channel trying to reach France. Unfortunately the winds and tides had different ideas that day, and I was being pushed towards the Calais Approaches, this is where the ferries enter the harbor, so my boat pilot had to stop my swim.
It was while researching the Channel that I came across Doloranda Pember's book In the wake of Mercedes Gleitze that she had written about her mother Mercedes' swimming exploits, and I immediately became fascinated by her story. Mercedes Gleitze was a pioneer in long distance swimming who undertook many difficult swims in the 1920s and 1930s, across Ireland, Great Britain and beyond. She was the first British woman to swim in the English Channel, the first person to swim in the Strait of Gibraltar, and she also completed record-breaking endurance swims for up to 47 hours in public pools.
When I pass a body of water, whether it is a pond, fountain, lake, river or sea, it is difficult for me to resist the want to swim.
My new artistic project Swim a long way together, curated by Rosie Hermon, draws inspiration from Mercedes Gleitze as part of her larger celebration of swimming and swimming communities. This is a long-running art project that creates a series of large-scale live events and exhibitions in Dublin, Cork, Galway, Donaghadee, Dover, Brighton and, hopefully, France. Each location tells a part of the story of this incredible woman and reflects on contemporary experiences of swimming as a practice of endurance, well-being and a collective and social pastime.
In 1930, Mercedes Gleitze came to Cork where she swam in the baths of Eglinton Street for 30 non-stop hours in front of a large crowd of around 4,500, breaking the endurance swimming record at the time. Musicians, actors and entertainers, including famous music hall comedian Fred Curran, came to perform for Mercedes on the pool deck to keep her spirits up as she swam.
From 3:30 p.m. on Friday October 1 at 3:30 p.m. until 9:30 p.m. on Saturday October 2, we reimagine Mercedes Cork Endurance Swim as a community stint in the pool at Midleton College, Co Cork. People can go to our site and reserve swimming slots throughout the 30 hours, the idea being that there is always at least one person swimming throughout the duration. There will be an ongoing program of performances on the pool deck at the same time.
In the final race to Cork Endurance Swim all systems are working, there is still a lot to organize, but I have a brilliant team helping me. Midleton College has been so enthusiastic in its role as host of this event, and we also thank Water Safety Ireland and the Arts Council of Ireland for their support. We are very happy to bring together dozens of swimmers, artists and spectators in this celebration of swimming and a tribute to the incredible Mercedes Gleitze.
For more information on Swim a long way together and how you can get involved, go here.